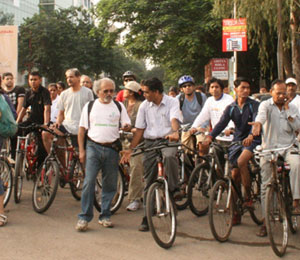 Pune, India celebrated World Carfree Day with a bicycle rally organised by civic groups such as Parisar, Janwani, Pune Cycle Pratishthan and Rotaract Club. About 200 people cycled down four different routes and converged on Sambhaji Park. The cyclists included students, activists, IT sector employees, government servants, businessmen, housewives and senior citizens, indicating that the concern for sustainable mobility cuts across the social spectrum. The participants included Pune's Municipal Commissioner Mr. Praveensinh Pardeshi, and Mr. Dario Hidalgo and Mr. Madhav Pai, sustainable transport experts from Embarq who were visiting Pune in connection with Pune's BRT.
The rally ended with a demand by the citizens that the city should provide for better cycling and walking facilities, and better public transport rather than spending money on infrastructure that will primarily benefit cars and two-wheelers, such as flyovers and bigger roads. The citizens' groups hope that this successful rally is a significant step towards demanding more sustainable solutions to transport planning in the city. They also promised that World Carfree Day in 2009 would be celebrated on a bigger scale with a visible impact on the city's traffic.
More information:
Pune carfree day
Dunedin, New Zealand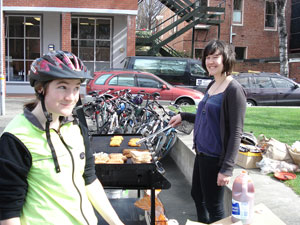 To encourage students to leave their cars at home, Students for Environmental Action Otago (SEA) organised a 'Free Bike Maintenance' stand at Otago University. Students were able to bring along their bicycles and get a free bike tune-up, and a discount voucher for Dunedin's local bike shop, Cycle Surgery, if there was anything that could not be fixed on the day. SEA Otago also gave away free lunch to students in exchange for a story about their bike ride, bus ride or walk to university that morning. The event was very successful and SEA achieved their aim of supporting students that cycle to university every day.
-
Sharon McKenzie
More information:
Sea blog