3E Seminar - Programme
Grassroots Capacity Building Seminar in Prague, November 4–6, 2009
Carpe the streets!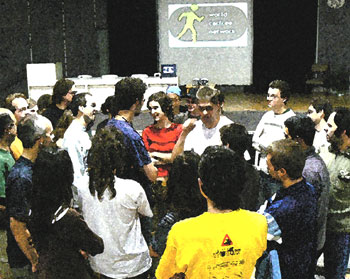 Needless to say, there is a true need for more extensive participation in the discussions, decisions and actions that affect the local physical and social environment we live in.

The recently celebrated World Carfree Day – as an annual showcase for just how our cities look, feel and sound like without cars – promotes urban environments inclusive towards all people and gives a voice to the people themselves in designing the environment they want to live in.
Our seminar echoes that:

Our aim is to equip and encourage grassroots groups to empower participation and active citizenship in adapting the urban environments to promote ecological, economical and social sustainability using carfree actions and events as our frame and inspiration.

10 years of World Carfree Days and Decades to Come

2010 will be the 10th anniversary of The World Carfree Day as we know it. A lot of knowledge has been gained during the past 10 years of carfree activities while promoting sustainable and sound urban environments. To preserve all that and to develop a tool for sharing the best practices, to gather gained experiences and to inspire campaigns, campaigners and active citizens to come, we want to invite you to seize the day – and the streets thereof – together with us and with other European carfree associates in the Prague seminar.

During the seminar we will create a platform for exchanging ideas, experiences and skills for promoting urban environments through the World Carfree Day's specimen while highlighting the need for urban development to reduce social exclusion and empowering people of all social and cultural groups to get actively involved in the public discussions, activities and decision-making in regard to urban planning and mobility.

This will be achieved by a seminar programme of workshops, presentations by experts and participants, and facilitated discussions as well as while networking informally in the social events during the seminar week.

In order to ensure the continuity of the capacity building and cooperation we will develop a set of interactive online tools for the NGOs use.

Download 3E Seminar 2009 Programme here

If you would like to contribute to it by leading a workshop, giving a presentation, facilitating a working group, please contact tanja_at_worldcarfree.net


To read more about the seminar please visit:

Practical information for participants

Online registration for participants

For more info, please contact tanja_at_worldcarfree.net



---

The 3E Seminar is supported by The International Visegrad Fund.