Practical Information for participants
Grassroots Capacity Building Seminar in Prague, November 4–6, 2009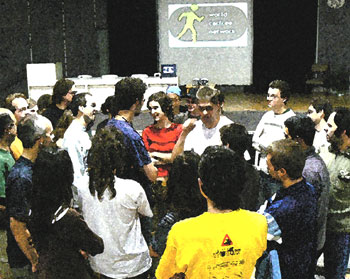 All carfree advocates are warmly welcomed to take part in the 3E Seminar.

However due to the Funder's preference, priority will be given to participants from the CEE region and to existing World Carfree Network (WCN) members.
Additionally, we have a fund for partial travel reimbursements for seminar participants from certain countries. In case you want to apply for such, please contact tanja_at_worldcarfree.net.
Accommodation & board
WCN will provide hostel accommodation at A plus Hostel from Tuesday evening until Sunday (including breakfasts, lunches and refreshments during the coffee breaks.)
Note: There is no extra charge if you wish to stay over the weekend to join the Network's Annual General Meeting (Saturday the 7th) and Network development workshops (Saturday the 7th and Sunday 8th)!
Registration & fees
In order to ensure a smooth and successful seminar, we need to ask you to contribute to the seminar organizing costs (mainly accommodation, food and travel) as follows:
* WCN members (organizations and individuals) 30 EUR per person *)
* Participants from the CEE region and Russia 30 EUR per person
* Participants from other parts of Europe 50 EUR per person
*) In solidarity, WCN members in the Western countries, as well as those members who are financially able to, are encouraged to pay the higher fee, if any means possible, in order to compensate others who are facing budget constraints.
All participants are kindly asked to confirm their participation by filling in the online form as soon as possible. If you need a visa or have any other requirements and/or questions related to the seminar, please contact tanja_at_worldcarfree.net
To read more about the seminar please visit:
3E theme and the seminar programme
Online registration for participants
Annual General Meeting (AGM) 2009
For more info, please contact tanja_at_worldcarfree.net
---

The 3E Seminar is supported by The International Visegrad Fund.